New Feature: Speed Limit Alerts
This new feature is available for users with select service plans that allows you to be alerted to any instance of speeding detected by the device. Each point that is collected by your tracking device is compared to a database of posted speed limits to identify speeding.
---
Alert Type
Speeding Threshold
Assigned Phone/Email
Alert Status
With this feature, a threshold with a minimum of 5 mph over the posted speed limit can be set to alert you to speeding events. Whenever the vehicle exceeds the posted speed limit of the road it is on by the number of mph selected as the threshold, an alert will be generated on your map in an orange balloon.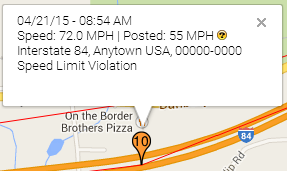 As an example, if the posted speed limit of a road is 55 mph, and the speeding threshold is 5 mph, any time the vehicle exceeds 60 mph, an alert will be generated, as seen in the image above.
---
Once the vehicle ends its trip, a text message or email alert will be sent to any phone numbers and email addresses assigned to the alert, which will notify you of how many instances of the vehicle exceeding the speed threshold were reported during a given trip..
An example of such an alert would be: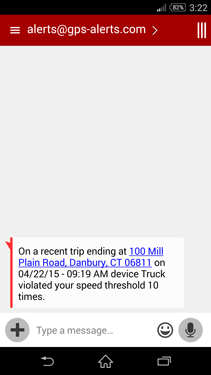 Detailed location information of speed events may be viewed on the tracking map and by generating a report.